As part of our research in how to improve all aspects of our product ranges, Union Foam has decided to upgrade the quality of the cardboard used to make the cartons our products are packed in.
The cardboard which is currently used for our product lines is made with a so called Triple BC structure which consists of one double layer of corrogations on the outside followed by a single layer of corrogations. We are now switching to a Mirco-triple EB grade which still has the same general two ply structure but in which the number of corrugations per unit width in each layer is increased.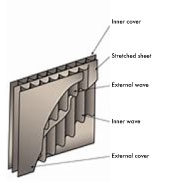 The main advantages of the Micro-triple EB cardboard are given below:
A Higher puncture resistance, thanks to the denser and more consistent structure of the cardboard.
A higher resistance to humid environments, because the cardboard is stiffer to start with.
Better quality printing because the cardboard is stiffer and more stable
The Micro-trible EB grade of cardboard was specifically designed to improve the vertical compressive strength of carton boxes, thus enhancing the stability of our products when the cartons are stacked on top of each other in transit or in storage.
In line with our commitment towards eco-sustainability; we use packaging materials which certified as having low CO2 emissions, in compliance with the relevant FSC codes and circular economy disciplines.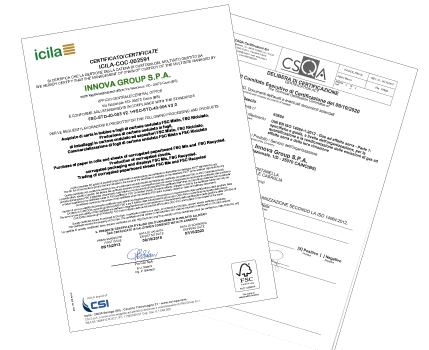 Moreover Eurobatex continuous rolls will now be offered in two carton sizes, the current carton size of 1070 mm x 535 mm x 530 mm and a new smaller carton having the following dimensions of 1050 mm x 405 mm x 410 mm will be added to the range. Eurobatex HF will just be supplied in the new smaller carton size. The smaller version offers a lower unit cost, a lower weight, better flexibility in transport and in use because it can be readily handled by one person. Moving all of our roll cartons has been made easier by the addition of two extra handles as shown below.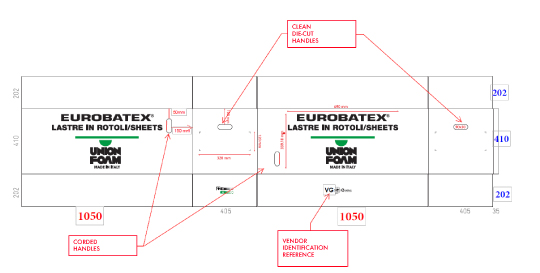 Environmental Product Declaration